Posted: Saturday, June 10, 2017 3:56 PM
---
Imagine having your bathroom built exactly the way you want it. No place inside our homes could make us prouder than our bathroom. And you have one chance to get it right. Why not go with the
Bathroom Remodeling Experts

?

Adilson, Gesiel And Braga
(owners)
ACIS Tile Of Florida, Inc.
Phone: 800-720-8061
Call me anytime for a free estimate:
Monday-Sunday
7:00 AM thru 9:00 PM
I am
happy

"I am happy to have you back to finish the rest of the house"

Mr. Ron
5929 NW 59 Ave Parkland FL
954-661-27##
N727rc@#######.net
(After a free estimate visit we are allowed
to provide Mr. Ron's contact reference.
Mr. Ron admired the marble setting that was completed--entire house)
What We Do
We set:
travertine
granite
vct
mosaic tile
glazed tile
slate
slab
flagstone
tumbled stone
glass tile in all sizes, shapes & designs.
We also float and waterproof all kind of surfaces such as floors, walls, ceilings, counter tops & backsplash.
ACIS Tile & MArble is highly experienced in complete bathroom remodeling.
For 10 years we've doing nothing but working with ceramic tile related jobs. As part of our complete package we have a vast experience in installation of:
sheet rock
hardiebacker
durock (cement board)
glass block
shower pan
shower doors
Also baseboard & laminate flooring and travertine-Slate-Natural Stone. The list goes on and on: entryways, patios, store fronts, hallways or lobbies, fire places. You name it, we tile it. Custom residential and commercial designs.
Bathrooms. Showers, including shower pan installation. Entryways. Patios. Store fronts. Fire places.

You did a
wonderful job

. It was

clean

,

professional
"You did a wonderful job. It was clean, professional and fast. The price was very good. The time, you came on time to get the job done."

Ken Gumbs
Davie, FL
954-205-44** (after the free estimate we will let you know Mr. Gumbs complete phone number)
September 2008
Excellent work



"Excellent work.

Excellent Quality

. Everything is clean. Good Price"


Carl Bradley
cbrad**@bellsouth.net
954-260-84**
Cooper City, FL
Marble Bathroom Remodeling
Completed October 28, 2008
If you are reading this message chances are you are looking to choose your next ceramic tile installer/setter. The options are endless. Infinite number of tile installers on the internet. we know it's hard for you to choose one installer amongst so many. Well, let me present the reasons why Acis Tile Of Florida should be the company that will earn your choice. I've made a promise to myself, to let my loyal clients to speak freely about me. This way I don't brag about the excellence of work. My clients do.


They're the
experts in Broward county
"I've met Romulo thru his website: www.CeramicTileFlorida.com There was a lot of references about their work. Their craftsmanship. They've made a wonderful job for us. We're extremely pleased.
They're very patient, extremely helpful and they're totally professional. I recommend their services to anyone who wants to have some tiles installed or granite or marble. They're the experts in Broward county."

Jean Pierre Boivin, Coconut Creek FL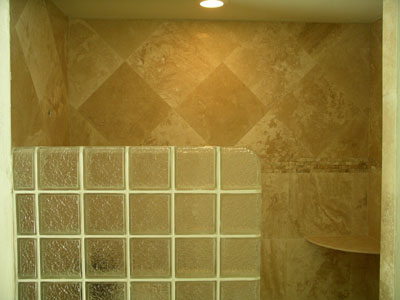 Glass Wall and Back wall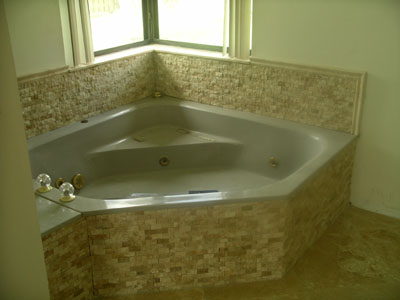 Bathroom tub installed by ACIS Marble and Tile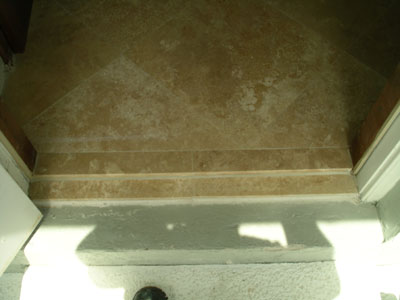 This is a threshold built with marble by the pool door. Entrance to the bathroom.
I knew this was the guy I wanted!
"

I've spent good couple of weeks looking for the right tile person. And I when I've seen his work, I knew this was the guy I wanted. They came here on time. The quality is excellent.

You can tell true craftsmanship when you see the lines are straight, when the light hits the tile, a nice shine. The price is excellent. I couldn't find a better price.

I appreciate it and I would recommend it to anyone."

awesome jobs
"Hi, my name is Marta Cerny. I am a realtor in the Boca Raton Area for over 20 years. I have met this man about 6 years ago. Ever since then, he has made several awesome jobs for me. I would recommend him to anybody. If you need any questions answered, please give me a call.
Adilson did 6 properties for me and I have been proudly recommending him to anybody that I sell properties to. And that needs a good job to be done for him"


Mrs. Marta Cerny - Real Estate Professional
Cell: (561) 289-6468
Fax: (561) 394-3464

We've installed hundreds and hundreds of SQ FT of ceramic tile for Mrs. Martha along 6 years of trust.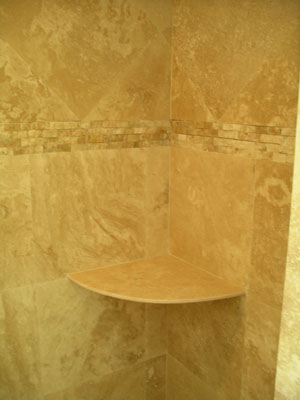 Marble Corner shelf. Notice the eye look listello. Very charming.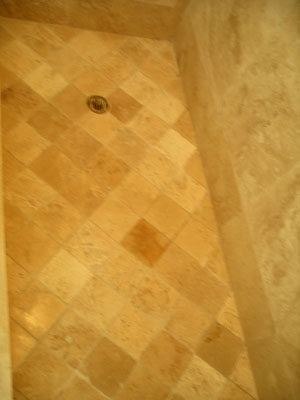 Shower pan built with tumbled stone

More shower pan built by Acis Tile Of Florida Corp.
Call me anytime for a free estimate:
Monday-Sunday
7:00 AM thru 9:00 PM

Adilson, Gesiel And Braga
(owners)
ACIS Tile Of Florida, Inc.
http://www.CeramicTileFlorida.com
(561) 756-4910 (mobile)
"The Most Recommended Tile Installer in South Florida"
Toll-FREE: (800) 720-8061
• Location: All 3 counties, Florida Keys

• Post ID: 33647960 keys