Posted: Saturday, June 10, 2017 3:55 PM
---
Top Recommended Bathroom Remodeling Licensed Contractor South Florida
Porcelain Tile Bathroom Remodeling Installation videos on www.YOUTUBE.com
Licensed and Insured Bathroom Remodeling Contractor FL 24; (561) 756.4910
Perfection during installation
During the process of installation is essential that the surface is kept absolutely clean at all times. Why? Because if the surface has particles and debris the adherence can be compromised and the quality of the setting be diminished.

ACIS Corp has been servicing the South Florida region with the best services in Tile installation since 2000.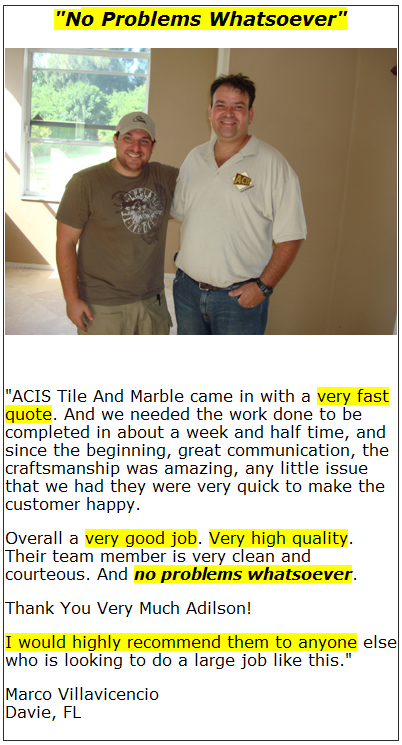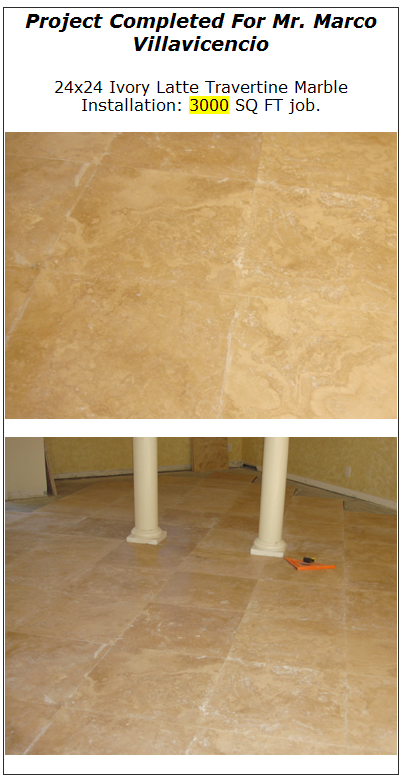 When you hire our services you can be certain that you will be hiring professionals who pay high attention to detail at affordable prices. Our references will simply will dazzle you.
Here are the common problems that when you hire non-experienced professionals you will encounter:
- We've seen work from other installers that didn't care about the floor preparation. For house younger than 25 years, there's a chance that cracks will appear. During the floor preparation, it's critical that proper measures are taken. For example, crack fillers must be used to eliminate the transmission of cracks from the concrete base slab. You can count on us to always make sure that cracks will not appear some time later.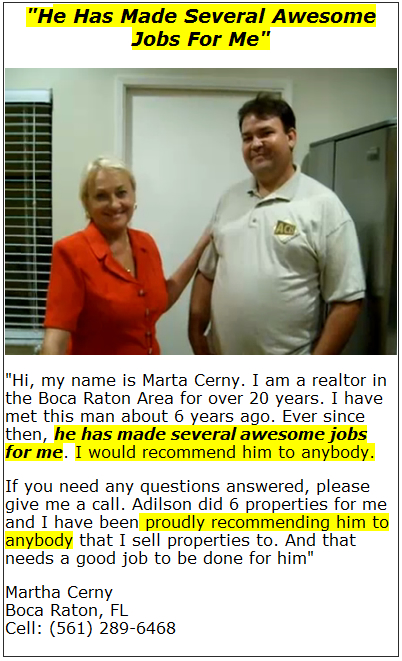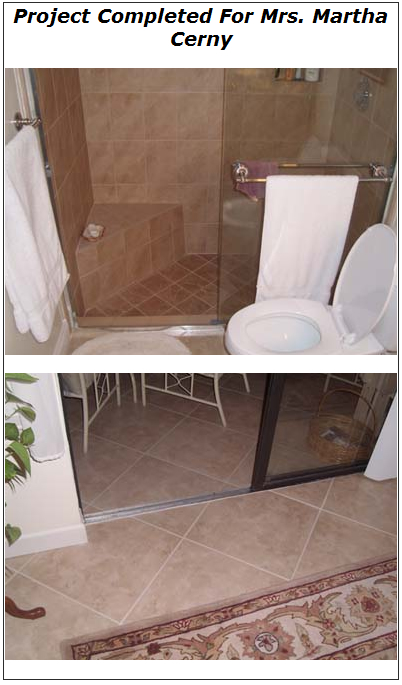 - Hollow tiles. Tiles that were not properly installed. Our 10+ years of experience will guarantee that it will not happen.
Toll-FREE: (800) 720-8061
Call me anytime for a free estimate:
Monday-Sunday
7:00 AM thru 9:00 PM

Adilson Andrade (owner)
http://www.CeramicTileFlorida.com
(561) 756-4910 (mobile)
"The Most Recommended Tile Installer in South Florida"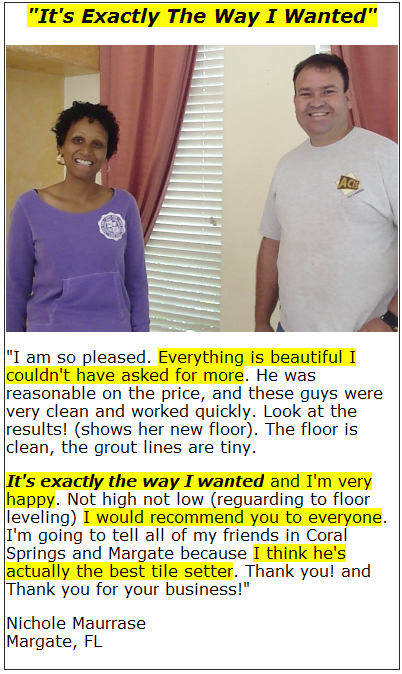 - No bumps. We are very strict when flattening floors and walls.
- You may take your time to select a good color of the grout/tiles. If, at the time before the installation you change your mind, don't worry, you may choose another one. You may even test a few grout colors before we initiate installation.
- When steps are being built by ACIS Tile & Marble, all effort will be applied to prevent exposed sharp edges. All surfaces will be as smooth as possible.
- Other installers will leave big gaps between tiles and finished parts (baseboards, kitchen cabinets, cuts around ceiling, metal threshold by sliding doors...) and will fill it with grouts. That is ugly. Our team of professional installers will not accept that. Cuts are performed with ultimate precision, leaving very small gaps to be filled with grout, giving a very nice look.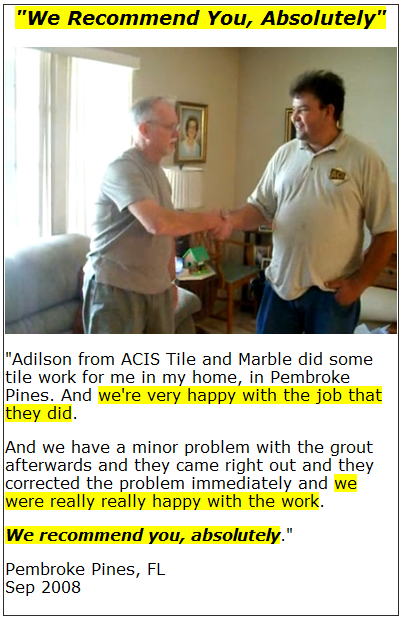 What We Do
We set: ceramic tile, travertine, granite, marble, porcelain, saltillo, mosaic tile, glazed tile, pavers, slate, slab, flagstone, tumbled stone, glass tile in all sizes, shapes & designs. We also float and waterproof all kind of surfaces. Such as floors, walls, ceilings, counter tops & backsplash. ACIS Marble & Tile is highly experienced in complete bathroom remodeling: installation of sheet rock, hardiebacker and durock (cement board), glass block, shower pan, shower doors. Also baseboard & laminate flooring and travertine-Slate-Natural Stone. The list goes on and on: entryways, patios, store fronts, hallways or lobbies, fire places. You name it we tile it. Custom residential and commercial designs.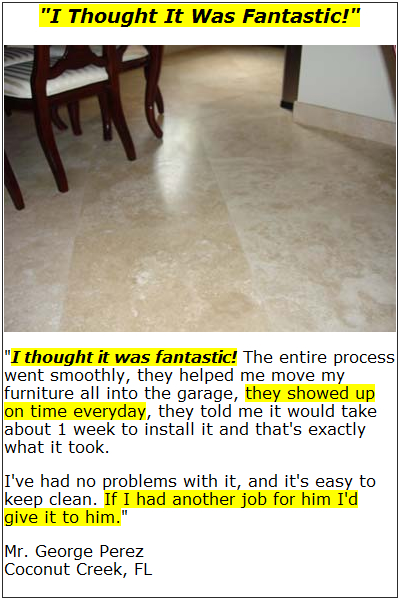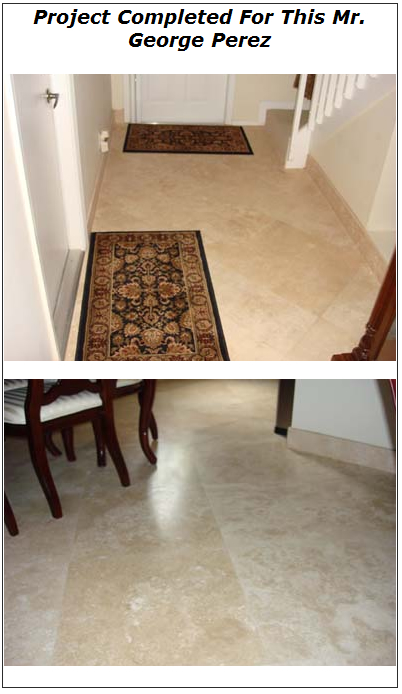 Quality
The number one concern you should have when selecting a tile setter is quality. Tile setting demands time, dedication and commitment to achieve a great result. You can have that with us. You, for sure will have a great feeling when we leave your home and your project is complete. We receive tons of Thank You notes all the time.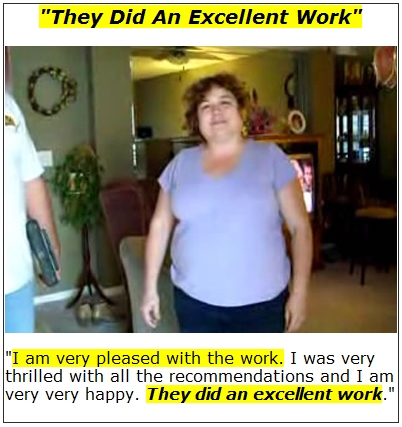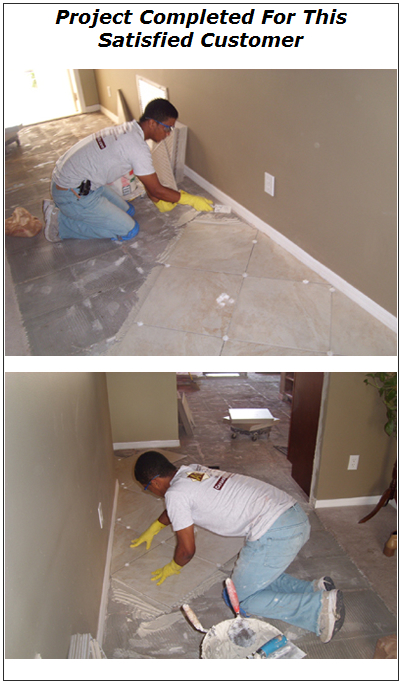 The Deal
If you haven't purchased your tile I can save you money by purchasing tile for you from all major tile distributors at builder's discounts. The selections are virtually unlimited and you can shop at some of the areas largest showrooms. Remember, our team can lay ceramic, travertine, slate, marble, or natural stone on floors, showers, back splashes, and counter tops.
If you are reading this message chances are you are looking to choose your next ceramic tile installer/setter. The options are endless. Infinite number of tile installers on the internet. We know it's hard for you to choose one installer amongst so many. Well, let me present more reasons why ACIS Tile and Marble should be the company that will earn your choice.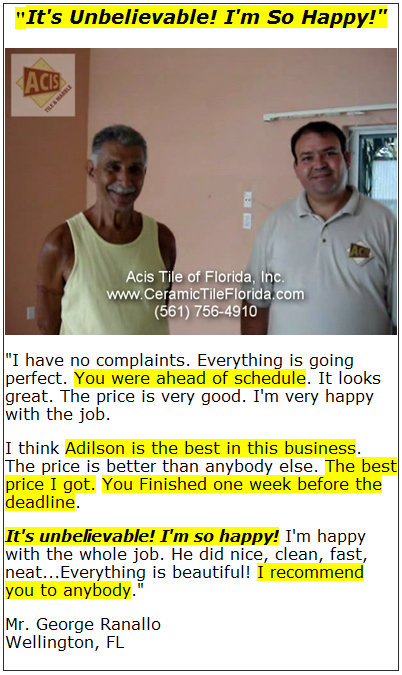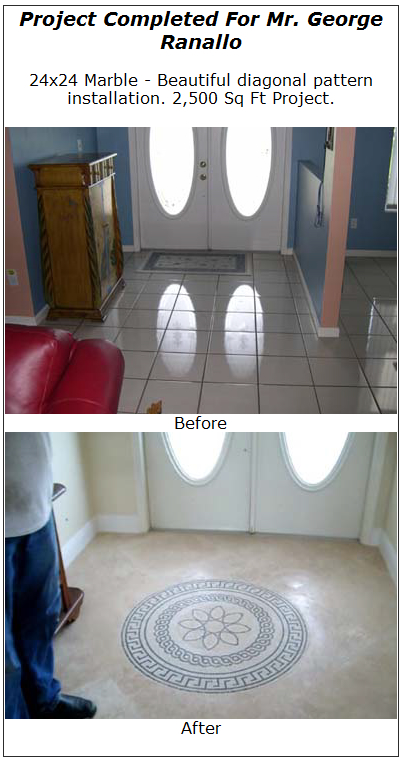 Marble and tile installer x marble and tile setter
1. To begin with, We are not a marble and tile installer, We are a marble, tile and ceramic setter. Tile setters adhere to the old fashioned idea that things should only have to be done once if they're done right, and this thinking is literally "cast in concrete." Most of the projects we do incorporate the use of cement mortar and other products based on cement. Projects completed in this fashion will last a lifetime. Installers, on the other hand, have not had the benefit of the training people like myself have been privileged to receive and cannot make that guaranty.
2. We have been a tile setter for over 10 years.
3. My clients appreciate the wide array of stone work We work with, We specialize in granite, marble, travertine, limestone, terracotta, terrazzo, glass mosaic, ceramic, and porcelain tile installation.
4. We will meet with you, discuss your ideas, as well as suggest my own ideas (if you are interested) and with that we can create a beautifully custom design for your kitchen, bathroom counter tops, floors, shower walls, bathtub surrounds, fireplaces, patios etc.
5. 100% FREE in-house estimates.
6. Great references for you to choose from.
7. Competitive prices, friendly and reliable.
8. We pride ourselves on quality craftsmanship, creative design and complete customer satisfaction. My business depends on referrals so We strive very hard to make my customers happy.
Experience
A tile installation craft is something that can only be developed over time. We cannot be really good in just a few months. In order to become a master in the art of tile installation, years are necessary. We've been installing tile, marble since 2000. We've installed hundreds of thousands of square feet. In each tile that we install we try reach absolute perfection.
| | | |
| --- | --- | --- |
| | | |
| | | |
| | | |
| --- | --- | --- |
| | | |
| | | |
| | | |
| | | |
| | | |
More than Solid References
Highly reputable commercial and residential clients publicly acknowledge the excellence of our services. When you hire us, you can rest assured you are hiring a friend. Someone that will not only be very strict about quality but also will treat you as a friend. For us at ACIS Corp, that's so important.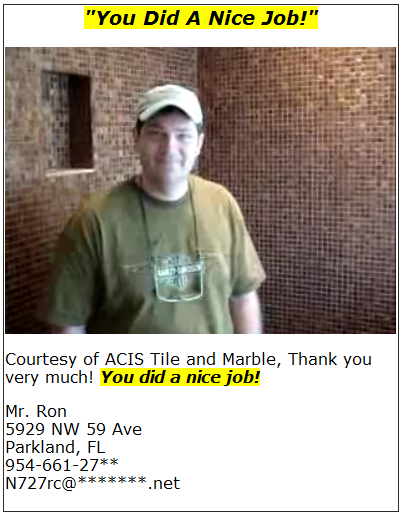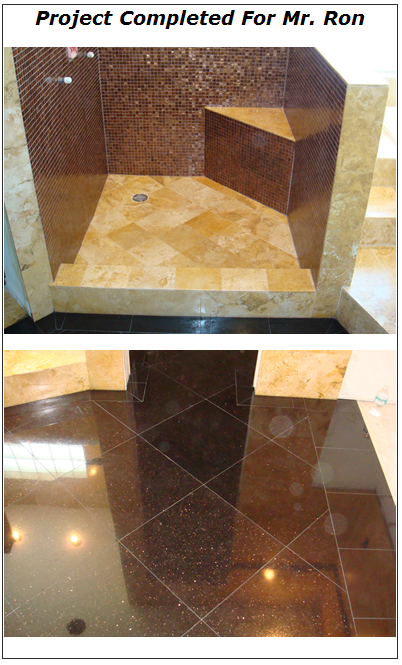 Go the Extra Mile
A tiling project may be very demanding. Often, it's not a simple matter of tile installation. Sometimes we will need to work closely with you. We understand that. And that's part of how we operate our business. We will be there for you every step of the way. You can count on it.
Look at what one customer has to say about us going the extra mile:
Insurance
ACIS Marble and Tile is insured. This is crucial. It's essential that a tile setter carry insurance. Since 2000 working in South Florida, we've seen and heard it all. Want peace of mind? Make sure your next tile setter is insured.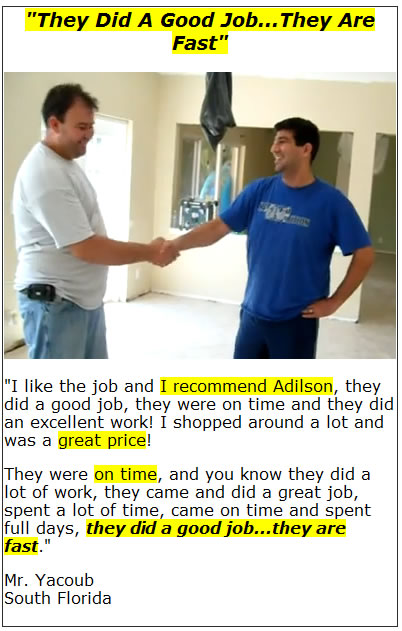 Flexibility
We understand that you may need to get us to do the work on a special time, evening, weekend... Just contact us and we will arrange to meet with you and execute your project at the time of your convenience. We are very very flexible.
Wow Prices!
When it's time for you to purchase the material for your next home remodeling, please keep us in mind. Once we purchase in high volume, we get substantial discount. It's highly recommended that you take advantage of that.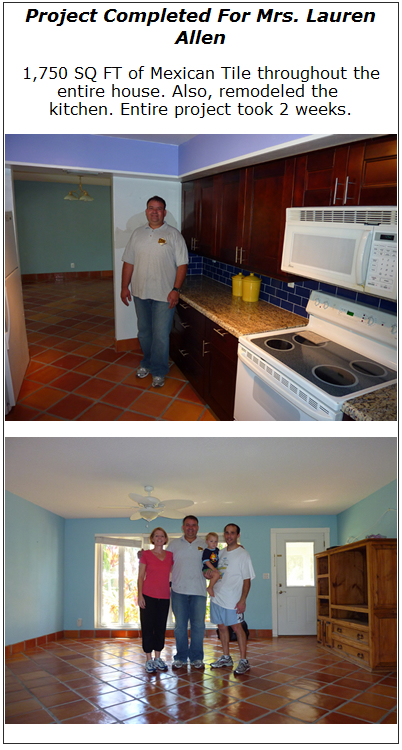 Punctuality
We are always punctual. If you say 8:00 AM, that's when we will be there. We will keep you informed of project development every step of the way either by phone or email.
Toll-FREE: (800) 720-8061
Call me anytime for a free estimate:
Monday-Sunday
7:00 AM thru 9:00 PM

Adilson Andrade (owner)
http://www.CeramicTileFlorida.com
(561) 756-4910 (mobile)
"The Most Recommended Tile Installer in South Florida"
• Location: Florida Keys, Tri-county S. Florida

• Post ID: 26297359 keys