Posted: Tuesday, January 28, 2014 9:23 AM
---
Reply: click here
Your Roof Looks Dirty, Stained And You Do Not Know What To Do About It?
Make Your Home Look AMAZING. Pressure Cleaning Services Start At Only $97 With Hot Water (No Harsh Chemicals, which means no damage to your landscaping) And 4,000 PSI.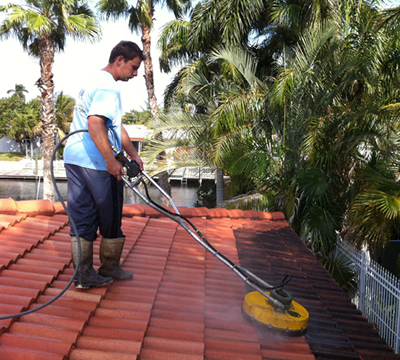 Because We Are One Of The Few Who Carry Hot Water, We Get booked Really Fast. Reserve your spot right away.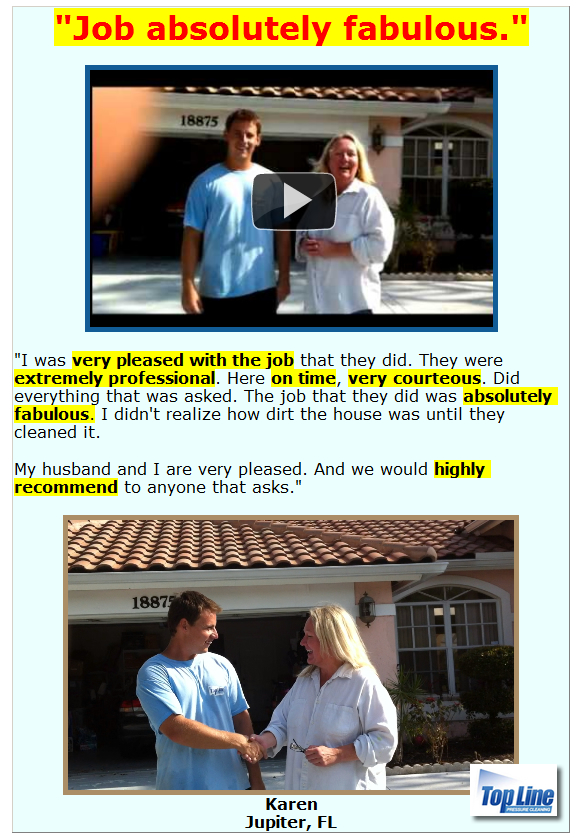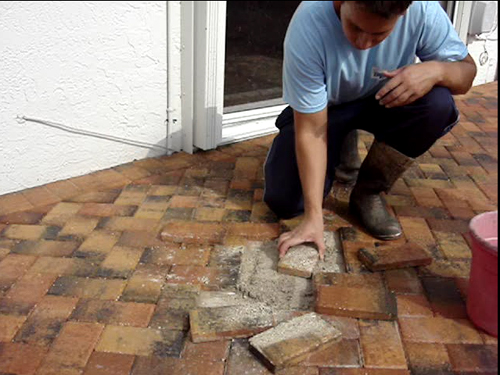 Repair Step 1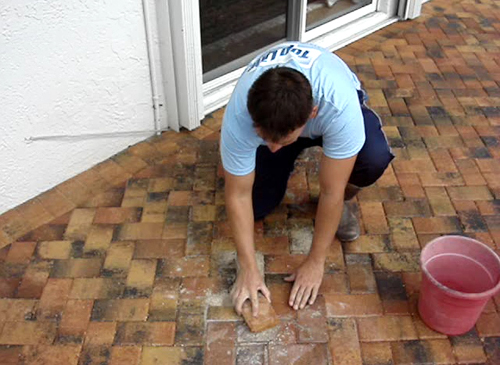 Repair Step 2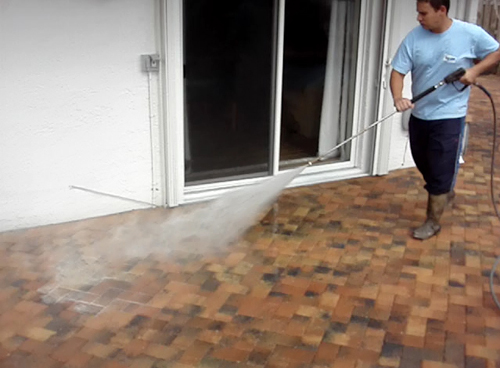 Repair Step 3
Most of us have heard of pressure wash, and may even have been told it's a good way to clean our homes, driveways, decks and other property on our own. However, that's far from the truth. While pressure washers are becoming more readily available to the average individual, there's a big difference between a professional grade machine and the one you can buy at the hardware store.

In addition, there's skill required in using a pressure washing machine correctly. Do it wrong, and you could harm your property importantly. Pressure washing can be a great idea, if you hire someone who knows what they're doing.
Top Line works with a high quality equipment with a strong machine that goes up to 4000 psi and 9 gpm. Top Line also can use a hot water machine that clean better and fast . The pressure of equipment is careful adjusted for each type of work, so, your roof will not damaged.
Top Line works with surface cleaners that can clean your driveway, your walkway or your pool deck much better than just using a gun machine. Top Line offer two kind of that. The first one is a 20 inches surface that can be used for small jobs and the big one, 28 inches surface for big jobs that clean better, fast and do not loose any part of the jog at the clean time.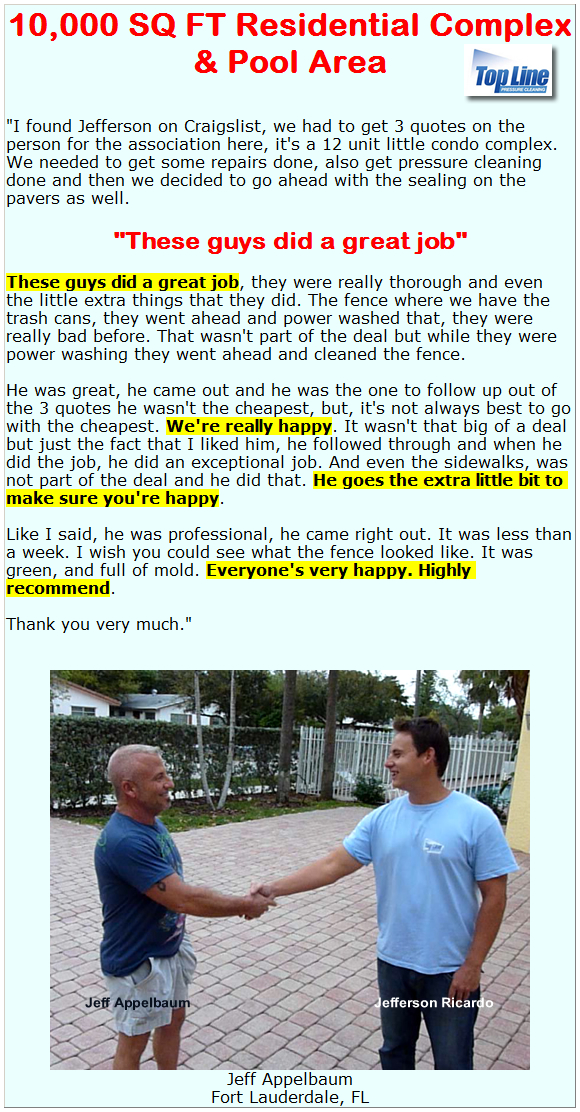 Below, you can check the result of a very good job executed on the roof of some Top Line's clients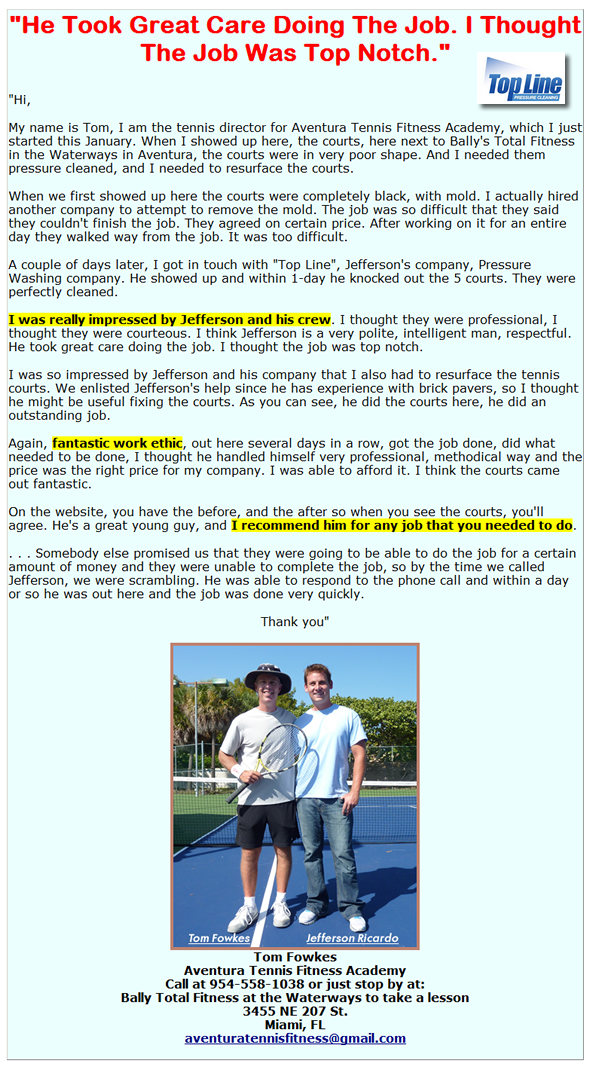 Call Directly: (954) 839-6652
Anytime For A F.r.e.e Estimate
7 Days/Week - From 7:00 AM To 9 PM
Top Line Pressure Cleaning Is Specialist On Brick Pavers Repair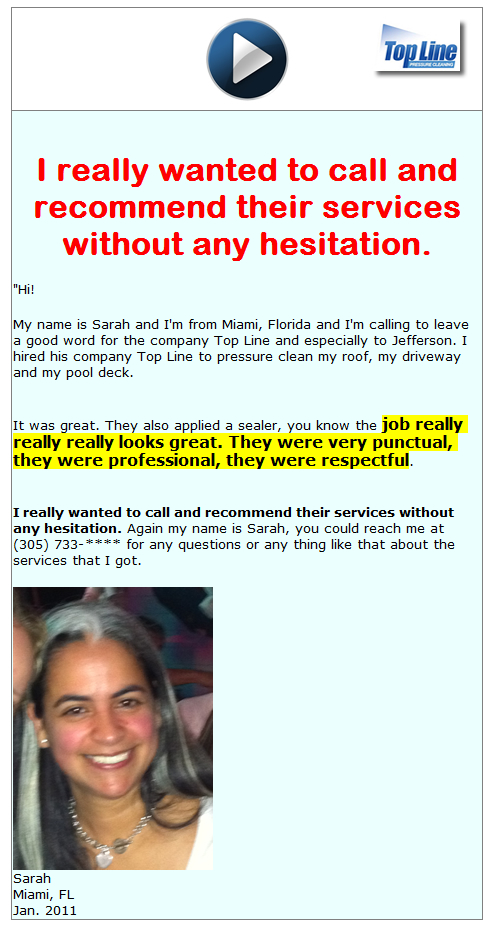 Services

Here Are Just A Few of Top Quality Pressure Clean Services Provided by Top Line Pressure Cleaning:

Driveway
Roof
Side Walks
Patios
Walkways
Docks
Tennis Court
Screen Enclosure
Pool Decks
Walls
Brick Paver (REPAIR)
Sealing Application

Jefferson Ricardo
(Owner)

Pressure Washer Specialist




F.r.e.e Estimates 7 days/WEEK
Tons of Solid References
Insured + Bonded
Pressure Washer Expert
Fluent English
High Attention To Detail
Punctuality

A Pressure Washer Can Sell Your Home
First, start at the top. Power wash your roof to eliminate bird droppings. Your home loses a good deal of its value if buyers see a moldy roof or the buyer suspects there may be mold in the house.
Next, surprise likely buyers by making your home's vinyl exterior bright from a thorough power pressure washing.
Your driveway and pathways as well as stone and brick walls should be clear of moss and debris also. When the outdoor looks clean and pleasing it makes the buyer believe that the full house has been well taken care of. A short time with a high power washer can make those areas look great.
Any decks, pool areas, patios, or porches can be improved by a good high pressure washing. Even if the house is a few decades old, you don't want to leave the impression that the upkeep has been overlooked.
Although you are not selling your garbage cans or lawn furniture, a cleanup with the proper water pressure from a power washer will spruce them up, too. Again, the buyer will feel that EVERYTHING has been treated with the best of care.
Add a few easy-to-care for hanging pots, mow the lawn, wash the windows and you'll have that curb appeal that will soon get your house sold.
We have developed an easy to use pressure washer selector which you can use for F.r.e.e by clicking here.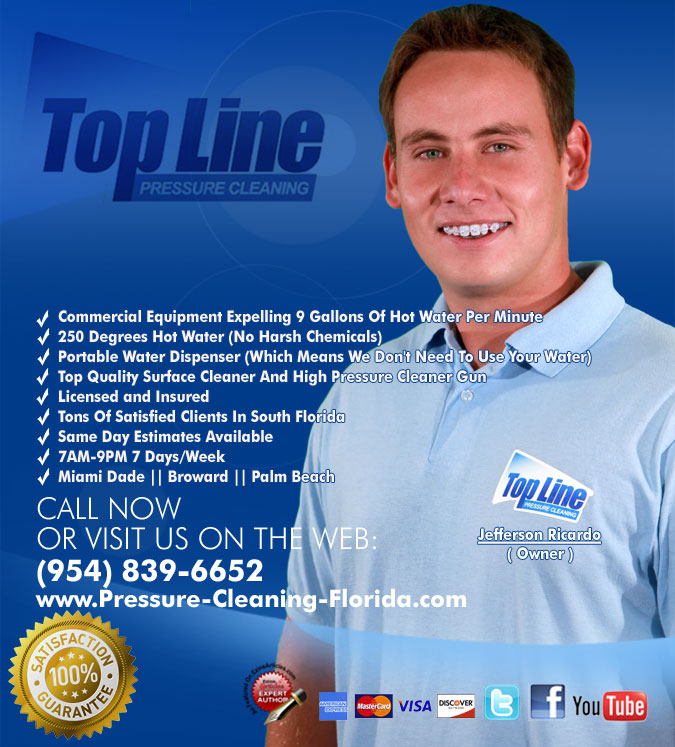 Having Problems With Your Pool Deck Area ?
Imagine receiving a special visit, in a beautiful summer day, nice for a swim in the pool. It would not be a good idea, if your pool deck was in a situation like photo above. Would not be nice if there was any visit falling around the pool, because of uneven flooring throughout, would it?
Call the Company that understands brick pavers. Besides washing your driveway, Top Line also offers a special repair service and sealer application.
Pick Up Your Phone And Call Now
Call us on our Direct Line: (954) 839-6652 and schedule your F.r.e.e non-obligation estimate. We'll follow up with a written proposal (emailed or faxed to you) explaining in detail what will be done and how it will be done.

If you prefer, just email us (customerservice at pressure-cleaning-florida.com) your name and phone and we will contact you to schedule a quick F.r.e.e estimate (best time for you).
Your Pool Is Like The One Below?
Did you know that because of the above situation, the owner of that house could receive a heavily fining? To prove that Top Line cares about your welfare and your family also, Jefferson Ricardo, owner of Top Line Pressure Cleaning, specializes in turning completely polluted pools in the pool of your dreams.
If you are in the same situation, call Jefferson now, and schedule a estimate that can save your money.
Coverage Area

What You Can Expect From Top Line

Trust - You can trust us. Top Line Knows how important is keep your driveway, your patio or your pool deck nice, clean and protected.

Rates - Top Line Pressure Cleaning rates are competitive with the big chains, but the service is more personal, more tailored to your needs. Whenever we meet, we will discuss what needs to be done and then we will email you a detailed proposal.

Communication - Because you will deal directly with the owners of the company on site, you can have piece of mind that there will be no misunderstandings regarding the cleaning of your driveway.


Affordability - Please invite us for a F.r.e.e Estimate and we will give the best quote you can get. We believe Quality should not be a trade off for price. You should get both: a high quality cleaning at an affordable amount.

Punctuality - We are always punctual. If you say 8:00 AM, that's when we will be there.
Phone: (954) 839-6652
Call Anytime For A F.r.e.e Estimate:
Monday-Sunday From 7:00 AM To 9 PM
Coverage Area
Do you live in counties of Miami, Broward, Palm Beach? This is not a problem. We will go to your house. If your city is not listed below, does not matter. You will be attended the same way and will be a pleased to be with you.
Miami Dade County
Miami, Miami Beach, Hialeah, North Miami, Miramar, Aventura, Hallandale, Weston, Pembroke Pine, Plantation, Hollywood.
Broward County
Fort Lauderdale, Plantation, Tamarac, Margate, Pompano Beach, Lighthouse Point, Coral Springs, Coconut Creek, Deerfield Beach, Parkland.
Palm Beach County
Boca Raton, Delray Beach, Boynton Beach, Lake Worth, Wellington, West Palm Beach, Royal Palm Beach, Palm Beach Gardens, Riviera Beach, Jupiter.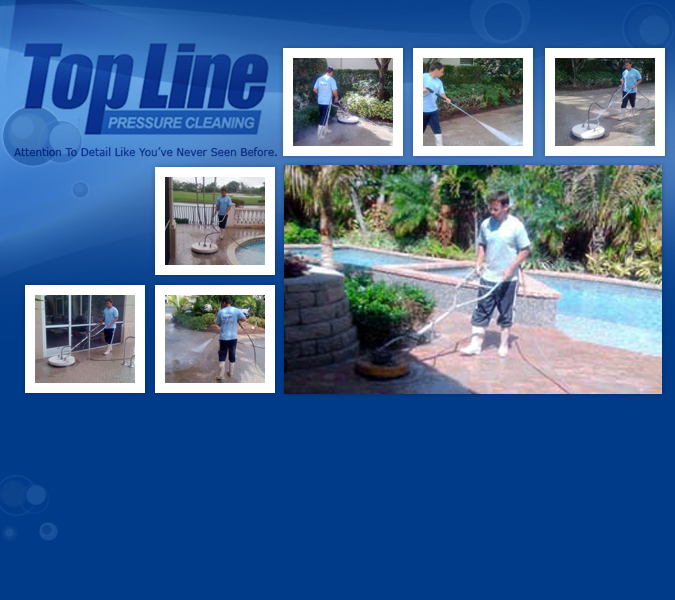 • Location: Florida Keys

• Post ID: 18568984 keys